" the only solution to feel sustained forces: the force feedback seat !"
Alain N., France, GS-Cobra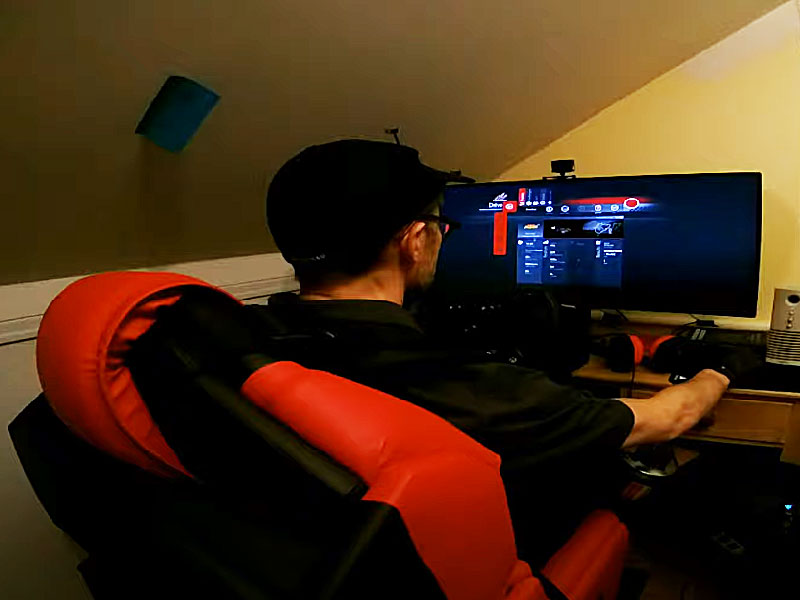 After hours spent searching on the net for a reasonably affordable solution to reproduce the force sensations experienced in a sports vehicle, and after thinking about every platform from 2 to 7 DOF with frightening budgets for a simracing beginner, I read simracers reviews talking about the only solution to feel sustained forces: the force feedback seat !
Very few producers in Europe, but I quickly found this seat (evolution of the GS-105) designed by Julien Regnard from Geko Systems, the GS-Cobra.
It seemed to offer the sensations I was seeking, while staying simple and compact (only 2 DOF platforms are comparable in size), affordable and silent.
The testimonials on the website convinced me it is what I was searching for, and focusing several times on the G forces felt while driving IRL in my car (at normal speed too, cornering, braking, accelerating...) I could feel that forces are essentially felt by the torso and that only a sutained force feedback could offer a minimum of realism.
1 month later I received my seat made to order.
Installation and use are remarkably simple (the software is simple but rich, offering very interesting features to build your own force profiles).
In addition, its designer provides a real after-sales service and responds very precisely to any requests.
I have been using the GS-Cobra with Assetto Corsa and Assetto Corsa Competizione simulations for a month now. My first race of 20 mns with the GS-Cobra on ACC was transformed so much, as I lived the race in a physical way with all the forces which one undergoes in sporting driving.
I had to lower the forces at the beginning with lighter profiles, as it was too much, and then very quickly, I got used to resist the forces as in reality and I could feel how much can be transmitted through forces by the telemetry of our simulations. I increased then progressively the forces, and now I turn with powerful profiles to maximize the G forces felt, from side to side, front and back, or in rotations.
Of course, in comparison with a sports car on a grippy track in real life, you will not take as many Gs but what you feel is coherent and already powerful enough ! Between the force feedback of my direct drive and the seat, driving becomes really physical and realistic.
As the reviews on the site described it so well, a great deal of information passes through the seat (with variable intensities, according to the behavior of the vehicle) and it complements fully the forces felt through the FFB of the wheel to make the car simulation really immersive.
It's simple, driving a simulator in these conditions really gives me a big smile, and I guarantee you that by driving down the Nurbugring Nordshleife on board the GS-Cobra, you become aware of what the drivers who achieved record times on this mythical track felt, the driving prowess that it represents at these speeds, and how much this track is not at all a flat billiard table without unevenness and with a perfect surface :-)).
I attach a link to a YT video on board a KTM XBOW-R on this famous northern loop Nurburgring Nordshleife :